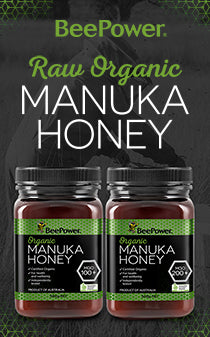 Delicious and Guilt Free Tart by Honey Australia
150g Nut Meal (Almond is our favourite) • 90g Desiccated Coconut
160g Pitted Medjool Dates
80ml Melted Coconut Oil 
Fresh Fruit
Raw Organic Honey (for serving) 
For the ganache 
220g Mascarpone Cheese
2 tablespoons of unsweetened cocoa powder
2 tablespoons of Raw Organic Honey 
Delicious and guilt free, this tart is easy to make and can be topped with pretty much any fresh fruit of your choice! 
Grease a 22cm cake tin with coconut oil. Line the tin with baking paper. 
Place nut meal, coconut and dates in your food processor. Add coconut oil and a pinch of sea salt. Blend until the mixture looks like a dough. 
Press the dough evenly into the cake tin, coming slightly up the edges. 
Place the ganache ingredients in the food processor and blend until smooth. Taste and add more honey if you prefer it sweeter. 
Pour the ganache over the base evenly and arrange your fruit on the top. Place the tart in the fridge for 2 or more hours to set. 
Serve Chilled with a drizzle of honey from Honey Australia.