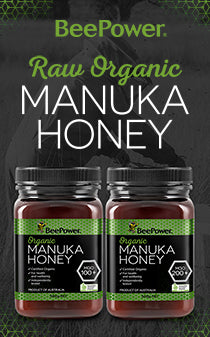 Banana, Pear, Ginger and Honey Bread Recipe by Honey Australia
This recipe takes good old banana bread to the next level! It is 'melt-in-your-mouth' good straight out of the oven and super nutritious and gut-loving.
INGREDIENTS
2 tablespoons finely grated fresh ginger
1 large pear peeled, chopped
2 ripe bananas mashed
2 tablespoons Manuka honey
3 tablespoons extra virgin olive oil (EVOO)
2/3 cup whole meal SR flour
2/3 cup almond meal
1 teaspoon baking powder
3 eggs
METHOD
1. Combine ginger, pear, banana, honey and EVOO in a saucepan and cover and simmer for 15 minutes.
2. Remove from the heat and leave to cool.
3. Preheat the oven to 180 C.
4. Line a loaf tin with non-stick paper and set aside.
5. Combine the flour, almond meal, and baking powder and stir thoroughly.
6. In a separate bowl whisk the eggs, add the cooled fruit mixture and stir well to combine.
7. Add the dry ingredients and stir well.
8. Pour the mixture into the tin and bake for 1 hour or until cooked through. Check regularly.